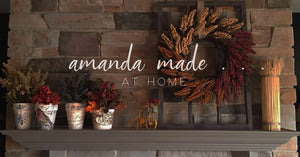 OPEN! Amanda Made at Home Subscription Group
This group will be available for purchase on October 1st.

Hello, Hello!
Amanda Made at Home is a private facebook group where I invite you into my creative world. In this exclusive group, we can get to know each other and chat while I craft, update rooms in my home, create decor, cook, organize and more! 

Here's what happens in Amanda Made at Home:
Live appearances a minimum of once a week (Ad free)

Videos, exclusively for the group, sharing techniques and tutorials

Advance notification of

 new craft kits and special kits just for the group

10% off everything in my store including kits and apparel (coming soon!)

Monthly giftaway! (Nice giftaways!)
Group activities with me will include:

Special crafts just for the group
Room updates/makeovers
Decorating rooms for the holidays and seasons
Furniture makeovers
Updating/makeovers of current decor items or thrifted items
Professional guests ie: Interior Designer, Florist, Shop Owners
Field trips to specialty stores
Cooking segments with my favorite go-to recipes
Organizing tips
And more along the way!
This group is set up as a monthly subscription. The monthly fee is only $15 drawn once each month (on the date you join) from the card on file. You can cancel at anytime! (No refunds will be given). Once you join, you will receive an email with a link to the private facebook group.
I make changes in my home all the time, and I'd love to have you join me!